At the feet of the Apostle St. Peter in Rome, Also the patron Saint of our church in Barkur.
The month of May signals many things for us who live in the state of Minnesota in the United States of America. Among those are two important events which occur every year. First of all, the beginning of spring. After a hard winter we all look forward to this beautiful season. Secondly, the Easter season begins with the hope of new life seen also as the Minnesota landscape slowly changes from winter white to shades of green.
Something special happened this spring when a group of us from the Archdiocese of St. Paul and Minneapolis went on a pilgrimage to the holy places of Italy and Rome. It was a marvelous and faith filled experience for me to see century old basilicas, churches, places where saints lived and where some suffered martyrdom.
We visited Rome, the eternal city, and had an audience with with our Holy Father Pope Benedict XVI at St. Peter's Square in Vatican City.
I am happy to share with my fellow Barkurians and others who are interested, notes and pictures about my pilgrimage.
ITALY TRIP
5/11 &12, Thursday & Friday
Left St. Paul & Minneapolis to join 46 others in a pilgrimage to Rome. Flew to Chicago, then to Paris, France and finally on to Venice, Italy. Staying in a Holiday Inn in Venice for 2 nights.
5/13,Saturday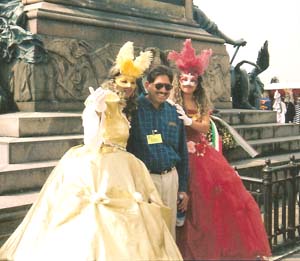 Spent the day touring Venice. Lots of tourists all over. People in costumes available to have your picture taken with them. Visited San Marcos Cathedral. We have Mass everyday. Beautiful "old" buildings built 1000's of years ago. Visited a glass factory. Venice is famous for glass. Went for a ride on a Gondola. It took 30 minutes through quiet canals with buildings on each side where families live. Pigeons (100's) in the plaza being fed by tourists. Wrote postcards and got ready for Florence tomorrow.
5/14,Sunday
Mother's Day. Raining.
Left Venice at 7:30 AM for Florence. Stopped at a rest stop at 9:00 AM and then on to Florence. Arrived at 11:00 AM. and began our tour. Many religious statues and paintings. Rain stopped around noon. Spent a couple of hours going through a museum that has many valuable pieces in it.
Had lunch (pizza) and then shopped. Visited a leather factory but didn't buy anything. They even had us modeling their leather jackets.
We had Mass at San Cruces, (Church of the Holy Cross) a Franciscan Church at 5:30 PM and then went to supper...pasta, pork, salad, potatoes and ice cream. At this restaurant if you wanted a drink of water you had to purchase it!!
5/15,Monday.
For the morning we were in Florence. Visited another museum that was full of statues. Had a good lunch in a nice "self service" restaurant. Food is expensive!
Walked back to our bus and we were on our way to Assisi. Stopped at a pottery factory. Very nice. Sampled sausage, wine, cheese and chocolate. A dog decided to be my friend and started following me around! Someone in our tour group took a picture of me with the dog.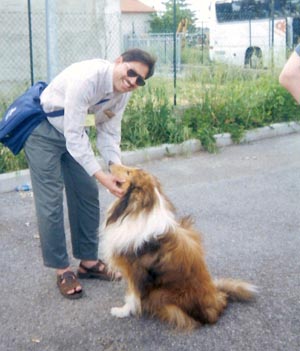 Checked into a hotel in Assisi. Dinner at 8:00 PM. We have pasta every night to start our supper. Walked around a bit. All hills!!!! Beautiful countryside!
5/16,Tuesday
Up at 6:30 AM. Good breakfast except their coffee is not very good.
Left on a walking tour at 8:00 AM. Assisi is hilly and the streets are very narrow. The stones in the walkways are uneven which makes walking a bit difficult.
Visited the Basilica of San Francisco, San Damiano and Our Lady of Los Angeles. Saw where St. Francis died and where he was born. Viewed the crypt where his body is buried. Visited the Church of St. Claire and saw where she died. Visited the Portiuncula, "small chapel," inside a huge, beautiful church. The frescoes are beautiful and the homes on the hillsides are lovely. Saw the beautiful statue of St. Anthony of Padua, my patron saint. Had a picture taken of me touching the feet of my patron saint. Left Assisi at 3:30 PM for Rome.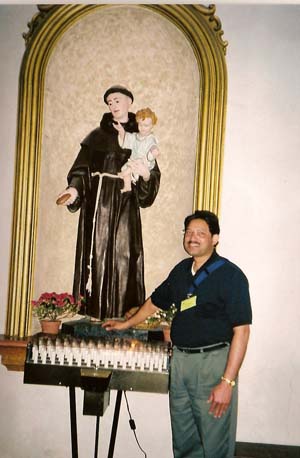 Arrived in Rome at 6:30 PM and got settled in my room. Had supper at 7:30 PM.
5/17,Wednesday...Papal Audience
Up at 6:30AM and on the road by 8:10 AM for a Papal Audience. We arrived by 8:30 AM at the Basilica of St. Peter. Dominico, our tour guide, gave us our tickets to get in and we then filed in to find our seat. We sat in the hot, bright Italian sun until 10:30 AM when the pope arrived. While waiting 3 bands marched in and were seated up close to where the pope would be sitting.
He arrived in an open coach and the crowd (100,000) went wild. He circled the huge crowd, greeting everyone. The pope greeted us and then the gospel for the day was read in 6 languages. He addressed the audience for about 10 minutes and then it was read in 6 languages. All the various groups from different countries were recognized. The audience was over by 12:00 noon. We went for lunch and then visited 2 churches. Had Mass at St. John Lateran, a huge beautiful church, at 4:30 PM. The ceiling in this church was all gold. Many huge statues in this church.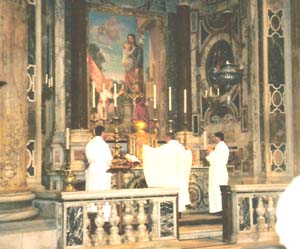 Back to the hotel by 6:30 PM. Dinner at 7:30 PM. Later we walked around a bit to get to know the neighborhood where we are staying.
5/18, Thursday...Visit to St. Peters, the Vatican and the Sistine Chapel
Up at 5:00 AM to go to St. Peters. Had a sack breakfast and we were on our way by 6:15 AM. We three priests concelebrated at St. Peters at 7:30 AM at one of the side altars. After Mass we walked over to the Vatican Museum and stood in line for 45 minutes before we could get in.
Toured the museum. Many statues, paintings and tapestries that took 7yrs. to make. Spent 15 minutes in the Sistine Chapel which is spectacular! After we went back to St. Peters and walked around and looked at all the statues. I saw the statue of St. Peter seated on a bronze chair. Anyone could touch the statue and take pictures. I had my picture taken touching the feet of St. Peter, patron of my home parish in Barkur. It was a great experience to visit this beautiful basilica of St. Peter's in Rome. Also saw the Pieta.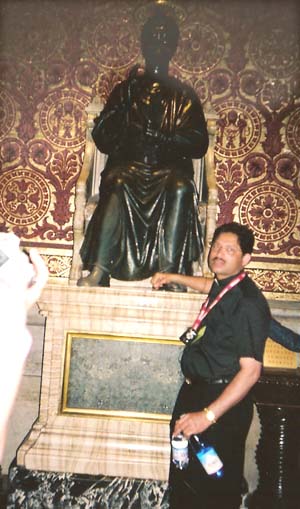 After lunch we drove to the Basilica of St. Paul, another huge church. Then on to the catacombs. Walked through 2 levels of the catacombs. This is where the Romans and Christians buried their dead.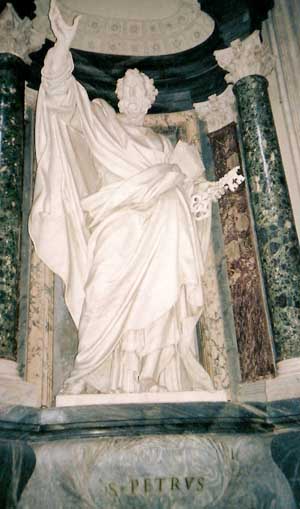 All that we have seen has been remarkable. The crowds are staggering. Hundreds of people everywhere.
Traffic is very heavy and the drivers are crazy! Scooters all over the place. Our bus drivers have been great. Streets are very narrow and they park their cars and scooters on both sides on the street, and in all directions. Barely room for 2-way traffic.
5/19,Friday...Bus, taxi, railroad strike today.
Got up at 6:00 AM. Had breakfast and then went to Mass at the Church of the Immaculate Conception at 8:30 AM. Church is located across the street from the hotel where we were staying. Returned to the hotel and our bus came about 9:15 AM and took us to "Old Rome." Visited the Coliseum and saw many Roman ruins. Visited the Parthenon and then came back to the hotel about 4:45 PM. We also saw a famous, huge water fountain where movies like "Three Coins in the Fountain: were made.
Bought some souvenirs. T-shirts for $5.00 euros each. Decided to rest a bit and then we went for dinner. There was an option to go back downtown by bus from 6:30 – 10:30 PM but we decided we didn't want to do that.
5/20,Saturday
Up at 6:45 AM. After breakfast we left at 8:15 AM for Mass at a church called St. Peter in Chains.
Toured the church after Mass and then on to a beautiful park that overlooked the entire city of Rome. Beautiful!! Then on to another church, St. Sabina and then we came back to the hotel. Others went to tour the city and the Basilica of St. Peter again. I decided against it as you had to wait too long in line in the hot sun.
5/21, Sunday...Back to the USA
Good trip!
Many great memories. Each historic place in Italy and Rome was very inspiring. I'm grateful to have been able to make this trip and recommend others to also consider going on such a pilgrimage at least once in your lifetime
-Fr. Tony Andrade.