A keen immigrant Indian Sindhi lad applied for a salesman's job at London's Premier downtown department store. In fact it was the biggest store in the world - you could get anything there.
The boss asked him, "Have you ever been a salesman before?", "Yes, in Rajasthan", said the lad. The boss liked the cut of him and said, "You can start tomorrow and I'll come and see you."
The day was long and arduous for the young man, but finally 5:00 pm came around. The boss duly fronted up and asked, "How many sales did you make today?".
"One" said the young salesman.
"Only one?" blurted the boss. "Most of my staff make 20 or 30 sales a day. How much was the sale worth??"
"Three hundred thousand, three hundred and thirty four pounds" said the young sindhi.
"How did you manage that?" asked the flabbergasted boss.
Well", said the salesman "this man came in and I sold him a small fish hook, then a medium hook and finally a really large hook. Then I sold him a small fishing line, a medium one and a huge big one. I asked him where he was going fishing and he said down the coast. I said he would probably need a boat, so I took him down to the boat department and sold him that twenty foot schooner with the twin engines.Then he said his Volkswagen probably wouldn't be able to pull it, so I took him to the car department and sold him the new Deluxe Cruiser"
The boss took two steps back and asked in astonishment, "You sold all that to a guy who came in for a fish hook!".
" No" answered the salesman, "he came in to buy a box of Sanitary napkins for his wife and I said to him,"Your weekend's screwed anyway, you might as well go fishing."
Jossie Pinto, Kuwait
Cute Sms
Could u fax me ur photo very very urgently ? Mind u - it's really very very urgent, damn serious and very imp ..... I'm playing cards and we've misplaced the JOKER.
Good looks catch the eyes but Good Personality catches the heart, You are blessed with both!. FLATTERED?. Don't Be, it was sent to me, I just wanted you to read it.
Shah Jahan Ne Taj Mahal Ki Har Deewar Ko Dekha, Har Meenar Ko Dekha, Har Kaleen Ko Dekha, Har Khidki Se Dekha... Aur Bola... Maa Kasam, Bahut Kharcha ho Gaya !!!
Good morning...Have u done two of the most important things when you wake up today? 1)Pray, so that u may live... 2)Take a bath-so that others may live too!
Can u pronounce good english:- read along woof, roof, loof, shoof, shoof, woof, loof, roof, poof, woof woof, hoof, woof, roof, shoof. Test results: U r a good dog. Now stop barking.
If u hide, i'll seek 4 u. If u r lost, i'll search 4 u. If u'll leave, i'll wait 4 u. If days take u away 4m me, i'll fight 4 u. But, if u stop sending msgs, i'll kill you.
Beta bola "papa papa mujhe bandar dekhna hai". Papa bole, "Nahi bete, abhi nahi". "Papa kyon ?" .......... "Bete abhi bandar SMS padh raha hai"
I saw something in a shop window. It was stunning, cute, simply adorable. I was supposed 2 buy it 4 u, then I realised it was my reflection.
To live a life, one needs brains, reflex, perception, looks, IQ, knowledge, way of __expression & many more mental qualities. Hats off 2 u coz u manage 2 live without them.
Once god came up 2 me & granted me a wish. I asked 4 "world peace". That's impossible, he said. Then I asked him 2 give u brains. He said "Let me try world peace"
Falling in love is a sweet ambition, finding true love is a life time mission.. Take my word, follow the Indian tradition & marry ur dad's ugly decision.
From Mon to Sun, From Jan To Dec, From birth till my death, my feelings 4 u have never changed. For me, you've always been........... a headache !
1 day u'll B srprisd 2C ME beside U. U & ME laughing, U & ME crying, U & ME dreaming, U & ME holding on, U & ME... just U & ME sitting in a MENTAL HOSPITAL & ME CHECKING U.
I cannot hide this from u any more. I don't want 2 hurt u and I feel it's best if I tell u, before you hear it from someone else ............ Potato Prices Have Gone Up !
Maine puchha chand se "dekha hai kahin mere yaar sa hasin", chand ne kaha "saale itni upar se dikhta hai kya".
If u save this msg, it means I'm cute. If u edit this, I'm still cute. If u fwd this, u r spreading that i'm cute & if u erase this, u r jealous of me coz i'm cute!
Zindagi mein tum bahut aage jaaoge, kyonki jahan bhi tum jaooge, sab kahenge, chal be chal aage chal.
This msg. will refresh your brain in 5 seconds. 5.... 4.... 3.... 2....1.... Error : No Brain Detected !!
I mixed RUM in water and got drunk. I mixed BRANDY in water and got drunk. I mixed WHISKY in water and got drunk again. Now I have decided never to drink water again !!!
Dark were those days, without your sight. When I was in darkness, you gave me light. You gave me strength 2 make life bright. Thank you so much PHILIPS TUBELIGHT.
Q: RAM SITA HAI ... TO RAM KAUN HAI ?? A: TAILOR ( darzi )
Q: SITA RAM HAI TO SITA KAUN HAI? A: Sita MEMORY hai (RAM: Random Access Memory)
Prasad ask's Kumble to bring a pepsi... Kumble brings a bottle of pepsi but goes directly to Tendulkar. Why ?? why ?? :-)
Tendulkar is an opener!
The Madrasi said, I want to see the movie 'Heart is umbrella'. Which movie did he really want to see? Dil Chhata Hai!
Wohh kya hai jo Dil main hain, Mann main hai par Dhadkan main nahi? Socho... socho.... Arey Aamir Khan !!!!!!!
Q: What will u call a person who is leaving India?? A: Hindustan Lever (Leaver).
Q: Kalidas ka ek bhai joote banata tha, uska naam kya tha...................................? A: Adidas
Luv and Kush are going to a village & in between comes a well.
Luv falls into the well. Why ? Because Luv is blind!!!!! Now Kush also jumps inside. Why? Lot's of head scratching done.. . . . . . .
Love ke liye sala kush bhi karega...
Marina Gonsalves, Barkur
Hilarious Signs:
Over a gynecologist's office: "Dr. Jones, at your cervix."
On a plumber's truck: "We repair what your husband fixed."
On the trucks of a local plumbing company in NE Pennsylvania: "Don't sleep with a drip. Call your plumber."
Pizza shop slogan: "7 days without pizza makes one weak."
Outside a muffler shop: "No appointment necessary. We hear you coming."
In a veterinarian's waiting room: "Be back in 5 minutes. Sit! Stay!"
Door of a plastic surgeon's office: "We can help you pick your nose!"
On an electrician's truck: "Let us remove your shorts."
In a non-smoking area: "If we see smoke, we will assume you are on fire and take appropriate action."
On a maternity room door: "Push. Push. Push."
At an optometrist's office: "If you don't see what you're looking for, you've come to the right place."
In the front yard of a funeral home: "Drive carefully. We'll wait."
Anjie Fernandes, San Antonio
How the Hews Got the Ten Commandments:
God went to the Hermans and said, "I have Commandments for you that will make your lives better." And the Germans asked, "What are Commandments?" And the Lord said, "They are rules for living." "Can you give us an example?" "Thou shalt not kill." "Not kill? We're not interested." So He went to the Hitalians and said, "I have Commandments." And the Italians wanted an example, and the Lord said, "Thou shalt not steal." "Not steal? We're not interested." He went to the Hrench and said, "I have Commandments." The French wanted an example and the Lord said, "Thou shalt not covet thy neighbor's wife." "Not covet my neighbor's wife? We're not interested." He went to the Jews and said, "I have Commandments." "Commandments?" they said, "How much are they?" "They're free." "We'll take 10."
James Fernandes, USA
It happens only in India....!!?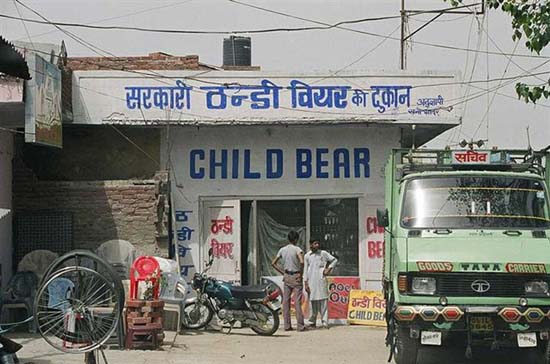 -Kishoo