CELEBRITIES ARE BORN...NOT MADE! GOD BLESS THEM.
All those who browse through the Barkuronline.com web site certainly must recall the performance of "Bharatnatyam Rangapravesham" last December, 2005, by the talented young woman Stenita Lewis. At the time she received many congratulatory wishes and words of appreciation for her outstanding work.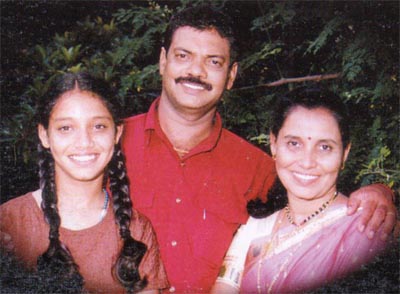 Last year, during my annual visit to my beloved hometown of Barkur, I personally met Stenita and was able to congratulate her on her wonderful rendition of the classical Indian dance "Bharatnatyam." What an achievement for her! We are blessed to have such a talented celebrity born in our midst who prefers the Indian classical arts rather than what her peers seem to prefer who attempt to embrace western culture in their daily life style.
I asked her a few questions such as; who influenced her to enter this field and would this be her life long carrier? She gave credit to her parents Mr. Stephen and Gretta Lewis for their constant encouragement and ongoing support. They have helped her to remain disciplined and focused on her life long goal. Her uncle, Mr. Alwyn Andrade, who is a well-known videographer and photographer of Mayura Studios in Bramavar also has encouraged her in many ways.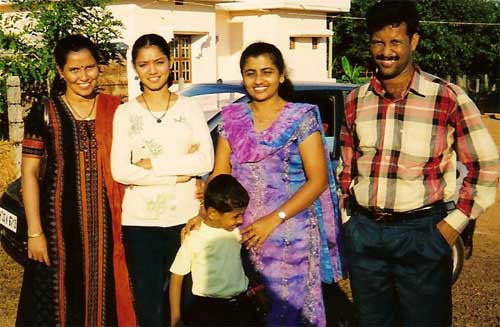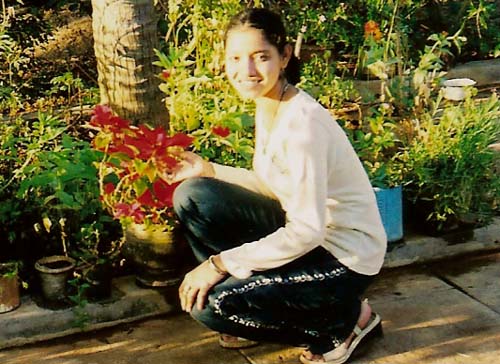 Stenita loved the poinsettia plant I brought from Minnesota. It is planted in a flower pot in my home in Nagrmutta. I took her picture touching the beautiful plant! In America, during the Christmas Season, poinsettia plants are used to decorate homes and churches everywhere. They are a beautiful decoration on the church altars and around the nativity scenes.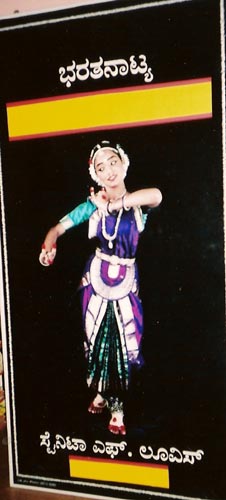 Gretta Lewis, the mother of Stenita and also my cousin, invited me to visit their home in Saligrama. As I entered their home I saw a large portrait of Stenita in a dance pose from "Bharatnatyam." This portrait of Stenia welcomes guests to their loving home. I wanted a picture of her in action so I could write about her achievements in our Barkuronline.com website. Her father, Stephen Lewis, gave me permission to take a picture of her beautiful portrait which you now see attached to this article.
This young, talented celebrity has future dreams of continuing her studies in classical Indian art and dance and eventually obtaining a Masters degree in this field. She has joined the Sandesha Lalitkala Mahavidyalaya (affiliated with the University of Mangalore) recently. She plans to work with children and help them to cultivate an interest and love for Indian art and dance.
What a wonderful gift she has and so willing to share it with others. May God bless her and may all her future dreams become a reality someday.
-Fr. Tony Andrade.