Monkeys are part of the Godís Creation tooÖ Let us love them.
When you think of monkeys what comes to mind? Either they are smart or stupid. My opinion is they are both! I say this because when I was growing up in the small village of Barkur I used to see them all the time. They would jump high up into the trees and then swing from tree to tree at the flick of a second. Sometimes a mother monkey would be carrying her baby along with her as she made those high jumps from tree to tree. They live most of the time in the jungles where they find food for their survival.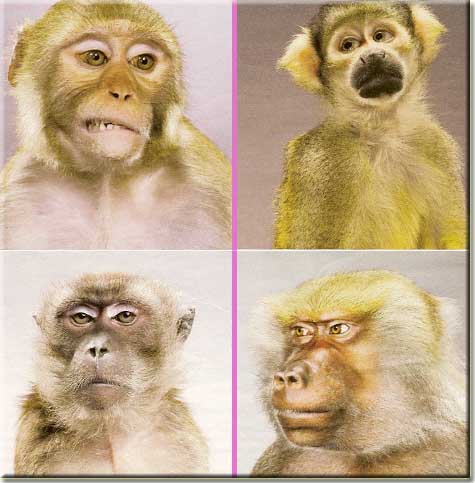 Look at these Monkeys...They sneer, they stare, they think...One even cocks his head. Are they not smart!! Yes indeed they are smart.
When I was a small boy, in my friend Archie DíLimaís home they had a little monkey. The monkey always sat on the branch of a small mango tree near their house. I think Archieís father, Mr. Salvador DíLima, found the baby monkey somewhere near the jungle. It had been abandoned for some reason and was wandering around on its own. Mr. Dílima, out of love for the poor animal, brought the little monkey home and cared for it. It was fun for all of us children to watch that little monkey making faces at us as he watched our hands to see if we had anything for him to eat. When we gave him something to eat he would take the food from our hands, stored it all in his mouth, and then looked for more. That is called a smart monkey! Always thinking of the future incase no one came by the next day to feed him. We had a lot of fun with that baby monkey but I donít remember what happened to him. Did he go back to the jungle where he belonged or did someone train him to entertain crowds in public places, doing all kinds of tricks, and then collecting money for his master?
One year, I think it was in 1998, on my way back to America I had a layover in Mumbai (Bombay). Since I had a few extra hours before going to the airport to catch my flight, I decided to take a walk on the Juhu Koliwda beach. While there I saw a young man walking with a monkey on his shoulder. He had the monkey dressed as a little boy. The monkeyís name was Ramu. Ramu was well trained to do all kinds of tricks and greetings and provided great entertainment for those on the beach. I admired that monkey Ramu. He was very smart and willing to do anything to earn money for his master and for himself.
In my heart I know it is not right to take away the freedom of an animal and train it to earn your daily bread. But that is our world today and in our mother, India. I offered 10 rupees to Ramu and his master and was entertained for a few minutes. When I sat down to touch Ramu he climbed up on my shoulder and tried to knock on my head to ďget the monkey out of me!Ē You can see that in the picture.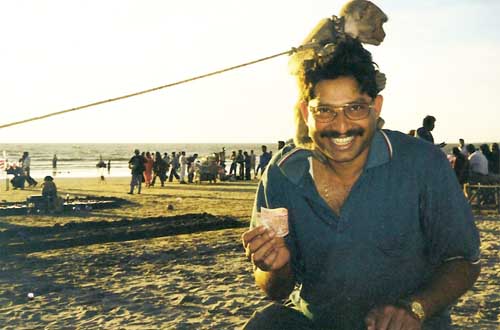 I remember one of our former parish priests, Fr. Mark Dísa, had a great love for monkeys. He had two of them at the parish rectory. It was always fun for the children to watch them play in their cage and make faces at the children.
St. Francis of Assisi was a great lover of nature and animals. He is the patron of animals. In the middle of our parish meditation garden we have a statue of St. Francis of Assisi. When I was in Italy, two years ago, I visited the Assisi countryside. The Umbrian hills are a beautiful sight and one can truly feel the presence of Saint Francis there. Like St. Francis of Assisi let us show our love for all animals that are a part of Godís creation.
Fr. Tony Andrade.