Dear Lawrie, my friend, may you rest in peace in Heaven in the presence of the living God.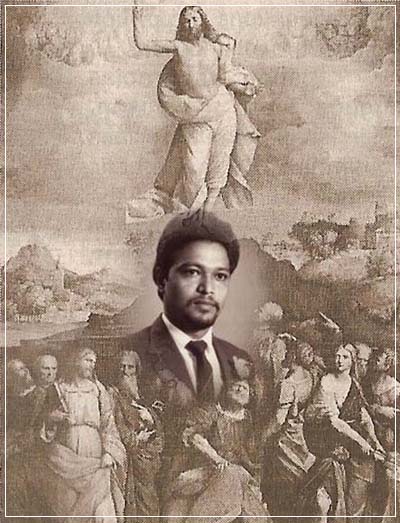 (Lawrie, may you rise with a Risen Lord and experience the eternal life)
Life and death is part of our life. We celebrate and rejoice when a new life is born into a family and we become sad and sorrowful when someone departs from this world to the Father to that eternity to be in the presence of our living God. A few days ago we celebrated the beautiful feast of Easter. The feast of Easter is a feast of Hope, of eternal life to be forever in heaven where there is no more sorrow, weeping or pain but only joy and peace in the presence of God our creator, the God of our life. Jesus, in the gospel of John chapter 14 verses 1-6, promises us saying;" In my Father's house there are many dwelling places. I go and prepare a place for you. Where I am there you will be also because you have put your faith and trust in me".
Lawrence Sequeira put his faith and trust in the Lord and embraced him as a savior of his life I am sure today he is experiencing that newness of life in heaven. He was our friend, brother and a fellow Barkurian was also one of the very best from our parish of St.Peter the Apostle in Barkur. He has completed his faith journey in this world and has returned to God, for his final resting place. I recall the days of knowing this prominent figure of our parish who shared his wonderful talents for the good of our parish and the local community. He lived a very short life of only 48 years but his contribution to the community is so much more. He was a true blessing for the Youth Movement in its infants stage in the late 70's in our church in Barkur. He will be remembered always in the hearts of everyone of us. My heart felt sympathy to his beloved wife, Wilma, and the entire Sequeira family. May the Risen Lord send his Holy Spirit to comfort and console your sorrowing heart and wipe away the tears from your eyes and fill your heart with His peace. My prayerful hope is that our Lawrie is in good hands and in a wonderful dwelling place the Lord has prepared for him in heaven. May he rest in peace. This Sunday I will offer a mass for the repose of his soul in my church here at St. Thomas the Apostle.
Fr. Tony Andrade and the parishioners of St. Thomas the Apostle church in St. Paul, MN (USA).