Called to serve with love and dedication, meet Rohan D'Almeida, a Jesuit from Halekody, Barkur.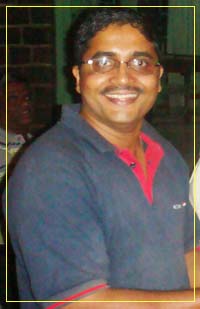 Rohan D'Almeida, SJ
Each one of us are called by God and entrusted a special mission in this beautiful world created by Him. First to experience God's unconditional love and then to share that unique love with one another. One of our own proud sons of Barkur, Rohan D'Almeida, responded to God's call to serve the Lord and His People as a Jesuit. On February 7th he was ordained a Deacon of the Holy Roman Catholic Church along with his fellow Jesuit companions in Pune by Most Rev. Bosco Penha, Auxiliary Bishop of Mumbai, India.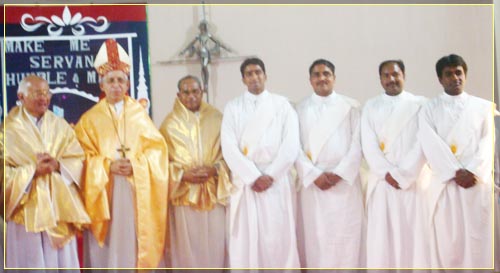 Newly Ordained Deacon's with Bishop. B. Penha
In a few months this enthusiastic young men will be ordained a priest to offer the Holy Sacrifice of the Mass and also to administer the Holy Sacraments of the Church to God's people. It is a special vocation to be "called and to be chosen" by God to serve as a priest of the Church. I met Rohan in December 08 in our church of St. Peter the Apostle, in Barkur, when I was on vacation visiting my family. This was our first encounter and I was delighted to meet this young man who had responded to God's call to be a Jesuit. Since then we correspond often through E-mails. Rohan credits me for inspiring him to respond to God's unique call to be a priest. I am very humbled to know that. I asked Rohan to write about himself so I could include his words in this article. Please read his story below.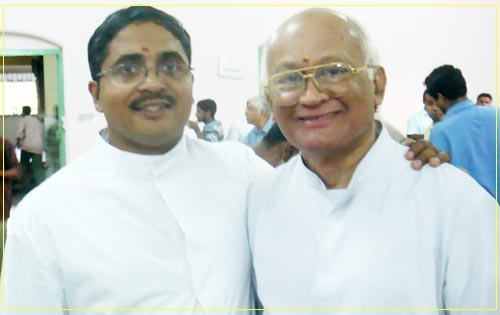 Rev. Deacon. Rohan D'Almeida with a priest friend
Fathers Name: Simon D' Almeida
Mothers Name: Lilly D' Almeida
I have one elder brother Roshan D' Almeida and a younger sister Sumana D' Almeida. I am from Halekody.
I joined the Jesuits in 1993. I completed my PUC from Aloysius College Mangalore. I then went to Bangalore for my Novitiate and pronounced my Vows in 1995. I completed my B.A. studies in Dharwad (north Karnataka), and after that taught for a few months in St. Aloysius High School as a regent. Then I went to Hassan to continue my regency. I did my philosophical studies in Pune and my B.Ed studies in Bangalore. After that I went for regency to Raichur, a new mission station of Jesuits of Karnataka. I have also completed my M.A. I was working with the Dalits, who are marginalized and who are treated as slaves. It was a most satisfying experience for me. Being with these people and being a voice for the voiceless.
I did my theological studies at the Regional Theological Center, Bangalore for 2 years and then returned to Pune for the rest of my theological studies.
I will be ordained on the 27th of December, 2009 in Aloysius College, Mangalore. My First Mass will be on the 28th of December in St. Peter's Church.
My Vocation Story
The desire to be a priest was not my childhood dream. When I was in the high school, I was always thinking of my future and what I could be. Fr. Tony Andrade used to come to our parish during his holidays. I used to see him celebrating the Eucharist and his inspiring homilies always inspired me. His vibrant and charismatic personality really stimulated me to ask myself; "why can't I become priest?" This desire was strengthened when I was in 9th standard. One day while playing on the playground, Sr. Josephine, then the Head Mistress of the school, called me to her office. I was afraid because I thought maybe I had done something wrong. With fear I went to her office. She asked me whether I was interested to become a priest. I was bewildered. I did not know what to answer so I told her I was not interested because I knew if I said yes she would not allow me to go out and play.
But later on I asked myself why did she call me and none of the other catholic boys in the class? This made me think deeper about my calling to be a priest. The Jesuit priests were coming to our school for a vocation promotion. I made the decision to join them because of their missionary zeal. Today I am very proud to be a Jesuit. I feel God has truly led me throughout my formative years as a Jesuit.
I was very happy to meet Fr. Tony, who has been an inspiration to me. I met him last December when he was visiting his family. It was the first time that I had met him after joining the Jesuits and the first time I had an opportunity to talk to him. I feel he is a down to earth person. His kind words of appreciation and his concern towards me made me feel very happy. His great work and dedication to spread the values of Christ such as love, peace and justice inspire me even today. The love that he has for the needy and the poor should be an inspiration to all the youngsters of our parish and others too.
I am indebted to Fr. Tony for the inspiration to join the priesthood. I pray that the good Lord will bless him so he can inspire others to respond to the call of Jesus.
By Rohan D'Almeida, SJ
In the name of my church of St. Thomas the Apostle and also the team of Barkuronline.com I congratulate Rohan and assure him of my prayerful support. May God bless him and his future mission in the church. If anyone wants to send their wishes to Rohan here is his e-mail: (rohandsj@gmail.com)
Fr. Tony Andrade ( frandrade@aol.com)