Called To Serve and He Serves with A Smile. He Is None Other Than
B. Mahesh Adiga from Brahmavar.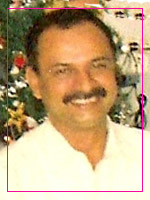 Good customer service is the top priority for Mr. Mahesh Adiga owner and C.E.O. of the Mahesh Enterprises and Appliances store in Brahmavar a neighboring town near our ancient historic town of Barkur.
Each year when I go on vacation I make it a point to stop and visit Mr. Adiga just to have a pleasant talk with him. It does not matter to him if I come for business or just to talk to him. For him each customer's visit is important and he greets everyone with a broad welcoming smile. His employees admire him and are delighted to work in his store. I have met many of them and they seem to be very satisfied with Mr. Adiga's administrative skills.
The Adiga family originally hails from Barkur but settled in the neighboring town of Brahmavar for business purposes. They still have relatives and friends in Barkur. Presently they also own and manage a wonderful hospital in Brahmavar called the "Mahesh Hospital" which also has a pharmacy. In the surrounding small towns there was a need for a good hospital. Recognizing the needs of our growing communities the Adiga brothers opened the hospital and are doing a wonderful job serving the health needs of our people. Located on the hospital campus they also have a hardware store.
The motto of their business philosophy is to serve with a "smile" and welcome everyone irrespective of people's faith and/or religion. Last December, 2008, when I visited Mahesh Enterprises I saw a nice Christmas tree standing in the middle of the store!!! I was impressed to see a Hindu from the Bramin community with a Christmas tree in his store. A perfect demonstration of how welcoming he is to all people no matter their religion or faith. The Christmas tree is a symbol in the Christian community's faith as a part of their celebration of the birth of Jesus Christ.
Below you can see Mr. Adiga and I are standing near the Christmas tree and smiling with joy.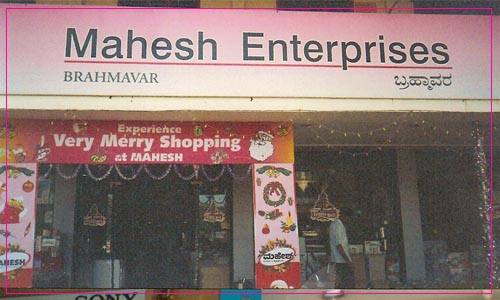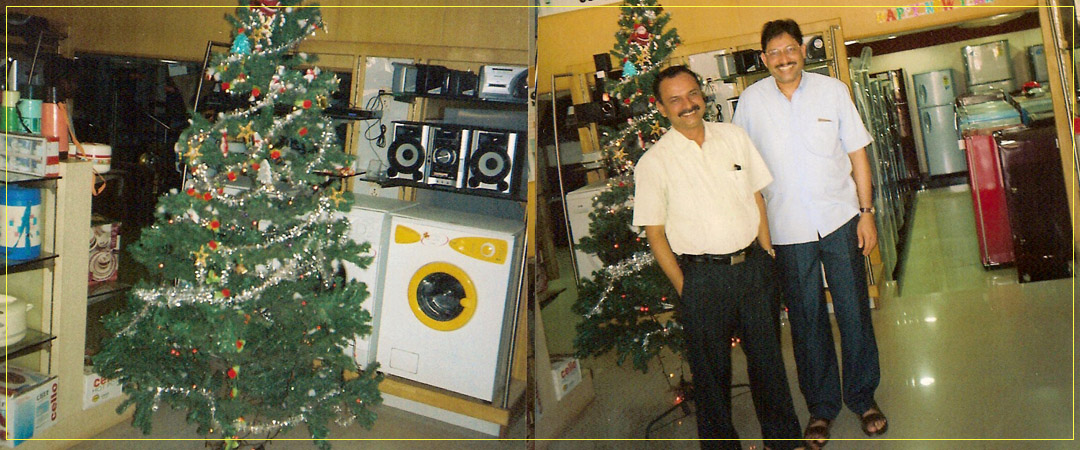 Mahesh Adiga and Fr. Andrade standing near the Christmas tree
He is truly very friendly to all that come into his store. As a businessman he has the gift of patience as he deals with his customers in pleasant way. Whatever you purchase from his store, either electronic goods or appliances, Mr. Adiga and his employees will stand behind the product with a 100% guarantee. He will even offer their Home Service Facility for the good of his customers.
I strongly recommend anyone who is interested to know more about Mahesh Enterprises to visit the store and meet Mahesh Adiga in order to experience first hand the wonderful customer service he offers. Here is his business card:-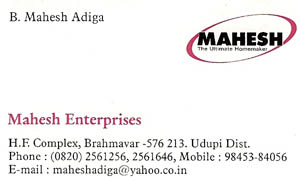 In name of my Church of St. Thomas the Apostle and Barkuronline.com I wish Mahesh Adiga the very best in this very competitive business world and assure him of my prayerful support. May God continue to bless him and all his wonderful employees as they serve our community with a "smile" and make a difference in their lives.
Fr. Tony Andrade (frandrade@aol.com)