Dear barkuronline.com web site browsers here is a article for you to read and to know how the Police Dogs serve the public in America and some day retire from its active duty. Please read.
Healing Ministry of "Buzz" a K-9 Police Dog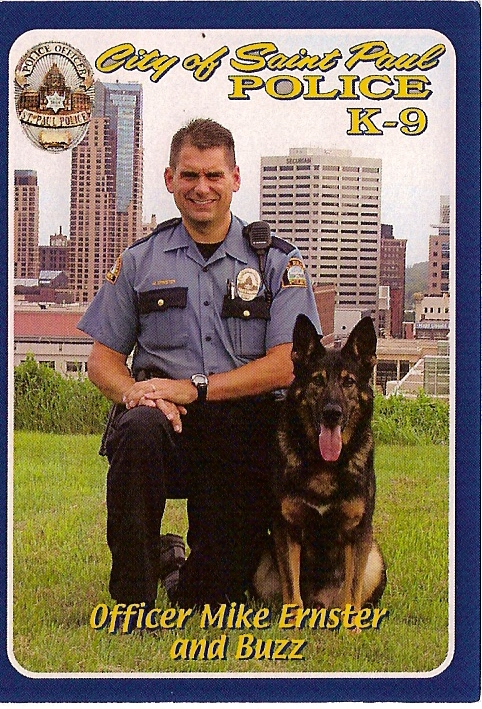 A few months ago I visited one of our young parishioners at St. Paul Children's Hospital. After a brief conversation with the patient and her parents we celebrated the Sacrament of Anointing of the Sick. In looking around her room I noticed it was decorated with lots of pictures and get-well cards made by her friends. I also spotted on the wall a picture of a police officer with his K-9 dog and signed by Mike Ernster. I was surprised because I know Mike and his family very well. They are members of St. Pascal Baylon parish, their two children attend our school and they are involved in various parish and school activities.
Officer Mike began this wonderful ministry of visiting Children's Hospital with his companion dog, "Buzz," long ago. They go once a month to bring a healing touch to the sick children. Children have a very special love for animals. Pets become an integral part of our families and build a special relationship with each member.
When well behaved and disciplined Buzz walks with his master into the children's hospital rooms their eyes light up and they get to touch and pet Buzz. Everyone looks forward to and enjoys those monthly visits including the hospital nursing staff. What a great stress reliever this nice, friendly dog is to all. But Buzz is also very smart and quick when called into action by Mike to assist in catching the bad guys and bringing them to justice. We are proud of the St. Paul Police Department's award winning K-9 unit as they assist our brave Police Officers in protecting us from harm and violence.
In April Mike and Buzz visited St. Pascal's School. The children had a great time having Buzz in their classroom and Mike gave a brief demonstration and answered their questions.
I personally met Buzz on St. Patrick's Day when Mike came to the school office to pick-up his children , Adam and Sidney to walk with him in the St. Patrick's Day parade. When Buzz saw me enter the office he immediately became very alert and serious. After a few sniffs though, Buzz realized Fr. Tony was a good guy and became very friendly and allowed me to touch and massage his ears.
Recently I was told by Mike and his daughter, Sidney that Buzz will retire from the K-9 unit on Saturday, May 28. In the name of St. Pascal's Parish and School Community I want to thank Mike and his companion, Buzz, for their dedicated public service to our city and wish Buzz a happy retirement and many relaxed days in the Ernster family home.
If anyone wants to support the K-9 unit with their generous contributions you may do so. Tax deductible donation accepted by:
St. Paul Police K-9 foundation
PO Box 17008. St. Paul MN-55117.
-Fr. Tony Andrade