This is the season of priest transfers within the Diocese.
"Goodbye Fr. Donald and Welcome Fr. Ronald"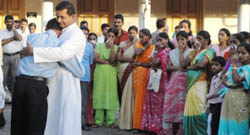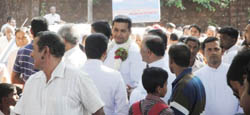 Every year Catholic Dioceses around the world face the challenging time of priest transfers from one parish to another and also for priests who are in institutional ministries. In some dioceses the bishop and his council establish a term of years for a priest to serve in a parish. In our Saint. Paul and Minneapolis Archdiocese the maximum is 12 years and in my home Diocese of Mangalore it is 7 years. Bishops however have the canonical provision in case a priest's service is needed elsewhere to transfer the priest before his term ends.
It is not easy for the priest or his faithful parishioners to accept this very challenging time of transfers. As he serves his people in the parish with love and dedication they become bonded as a family. Even though in the back of his mind and also in the minds of parishioners they know there will be day to say goodbye, it is still hard when that day arrives. There are many emotional feelings, sadness and tears knowing their priest will leave them to serve elsewhere.
I myself experienced that 2 years ago when I was transferred from St. Thomas the Apostle Church to the Church of St. Pascal Baylon. The transfer came before my 12 year term ended. I had served only 9 years when I was asked by my Archbishop to accept a new assignment. After praying over this I obliged his request and accepted the transfer. Now, when I look back over those wonderful 9 years of my first pastorate it seems like only 9 months! I am sure many other priests have had the same experience.
Each priest has a period of grieving over the parish he served with love and enthusiasm. For many it may take only a few months and for others it may take much longer. During that time parishioners and parish staff who welcomed their new priest need to allow him to adjust mentally, emotionally and physically to his new environment. There is plenty of time to get busy and active in the new assignment as parish priest.
Often when it is time to say goodbye or celebrate the retirement of the parish priest, parishioners get all excited and wants to have a big celebration. That is good because it demonstrates to the priest just how much he has meant to the parish. Some parishes, for example, in my home land of India seem to overdo it. Some parishes have obtained a band, rented buses or other vehicles to take the priest to his new assignment!
My question is this: "Is it necessary to go to all that unnecessary expense??" After all your priest only did what he was assigned to do as your parish priest. If a priest expects that type of farewell performance then I think he has lost that value of simplicity and humble servant hood in his priestly life.
If a parish wants to show off their mighty power and wealth to a small and poorer parish who are attempting to welcome their former pastor, that priest needs to be careful and not allow parishioners to engage in such type of farewell ceremonies. This may cause hard feelings among his new parishioners whom he will be serving for a number of years to come.
We need to keep in mind that the "goodbyes and welcomings" should be an enjoyable time for all. It is a time to show our whole hearted appreciation to priests who have dedicated their entire lives to serve God and His people. Remember to pray for your priests always that they remain committed to the priestly vocation they have freely chosen when they responded to God's Divine Call.
With a joyful spirit we say; "Goodbye Fr. Donald and Welcome Fr. Ronald!"
Fr. Tony Andrade, Parish Priest ,Church of St. Pascal Baylon, 1757 Conway Street, St. Paul MN 55106,USA,Phone: - 651-774-1585